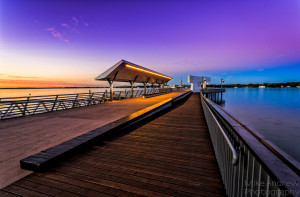 Well folks, i finally got the new Canon 5D mark 3 camera to replace my trusted 7D and lately I've been out testing it on just about anything that moves. I've had to adjust my technique a bit but I have now begun to appreciate the difference in full frame vs crop frame sensors.
The photo of the Southport jetty is one taken with the 5D using no filter, just the camera and lens. Nothing inbetween the glass.
The shot is crystal clear and the colours are amazing. So I can't wait now to head off and shoot some more.
Later this month I'm off to Hawaii and hopefully we'll get some great shots, including some of Maui and the dormant volcano Haleakalā. I'm really looking forward to putting the 5D through it's paces.
Can't you just see me running around Waikiki, trying to look a little like Thomas Magnum, my favourite TV show from the 80's. I was lucky enough to actually have visited Tom Sellecks restaurant in Ala Moana in the late 80's it was called the Black Orchid, and I have to say it was a real experience.
Any way Aloha from me.